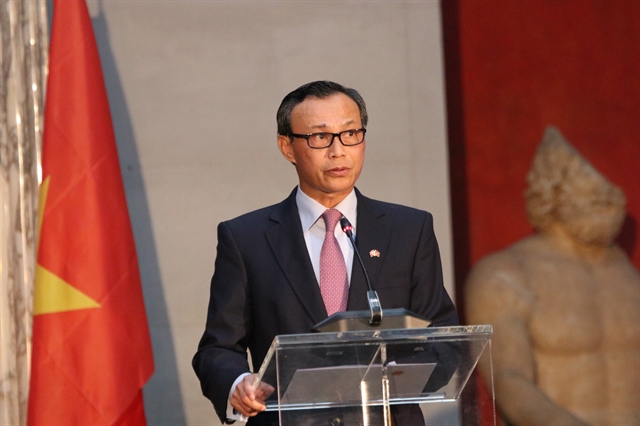 Vietnamese Ambassador to Denmark Lương Thanh Nghị. — VNA/VNS Photo
HÀ NỘI — Since Việt Nam and Denmark established diplomatic ties in 1971 and comprehensive partnership in 2013, the two countries' relations have been developing more and more practically and effectively, Vietnamese Ambassador to Denmark Lương Thanh Nghị has affirmed.
Speaking ahead of Vice President Võ Thị Ánh Xuân's official visit to Denmark this week, the diplomat emphasised that in addition to strengthening traditional cooperative mechanisms in politics, diplomacy, economy-commerce, and environment, the two countries also promote cooperation in potential strategic fields such as energy, green transition and sustainable development.
Nghị highlighted outstanding results in Việt Nam-Denmark cooperation, including regular delegation exchanges at all levels, especially high-level ones that show mutual respect and provide directions for specific cooperation contents.
On November 1, the Prime Ministers of the two countries held online talks and approved a joint declaration establishing the Việt Nam-Denmark Green Strategic Partnership with 10 groups of cooperative fields, which is significant for Việt Nam's sustainable development and demonstrates the commitment and determination of the two countries in joining hands to solve climate change – one of the biggest challenges that the world is facing.
The visit to Việt Nam by the Crown Prince and Princess of Denmark in November 2022 focused on the two countries' cooperation in the energy sector. During the visit, businesses and localities of the two countries signed 14 Memorandums of Understanding for cooperation in fields including human resource training, research and development, and supply chain in renewable energy development.
Economic-trade-investment cooperation between Việt Nam and Denmark over the past 10 years has also developed strongly, achieving very encouraging results.
Total bilateral trade turnover in the past 10 years nearly doubled from US$480 million in 2013 to nearly $900 million in 2022. More Danish investors are interested in finding business opportunities and expanding business and production in Việt Nam.
By the end of December 2022, Denmark had 155 investment projects in Việt Nam with a total registered capital of more than $1.787 billion, including the first carbon-neutral plant in the world worth more than $1 billion by Lego Group, and a project worth about $160 million from Pandora using renewable energy which is expected to create more than 6,000 jobs.
Notably, almost all large Danish enterprises investing and doing business in Việt Nam are actively implementing green transformation, sustainable development and social responsibility according to the criteria of the Danish Government.
Strategic sector cooperation (SSC) between Việt Nam and Denmark with focuses on environment, agriculture, health care, education and statistics is also being implemented very effectively. Other fields such as science and technology, justice, people-to-people exchange and culture also see increasingly substantive and effective cooperation.
On multilateral cooperation mechanisms, Việt Nam and Denmark regularly support each other at international and regional forums such as the United Nations and its organisations, the Asia-Europe Meeting (ASEM), ASEAN – EU, Partnering for Green Growth, and the Global Goals 2030 (P4G). This demonstrates the high political trust between the two countries, showing that Denmark values and has a positive assessment of Việt Nam's foreign policy regarding international and regional issues, the ambassador said.
Regarding the coming Denmark visit by Vice President Xuân, Nghị said that in the context of the current positive developments in Việt Nam-Denmark relations, the visit is significant, especially as the two countries are celebrating the 10th anniversary of their comprehensive partnership and the recent announcement of their Green Strategic Partnership.
Firstly, the visit affirms the closeness, trust and mutual understanding between the leaders and peoples of the two countries, contributing to consolidating and deepening Việt Nam-Denmark relations which are built not only on the interests of the two countries, but also on the friendship between the two peoples.
Secondly, the visit is taking place less than a month after the Prime Ministers of the two countries approved a joint statement establishing the Việt Nam-Denmark Green Strategic Partnership, showing their determination to effectively implement the leaders' commitment to promote cooperation in green transformation and sustainable development.
Thirdly, as the Vice President plans to meet representatives from leading Danish businesses, Việt Nam continues affirming its commitment to creating a stable and favourable environment for foreign enterprises, including Danish ones, the ambassador said. — VNS